Three Reasons Build Your Golf Cart Software Will Increase Your Sales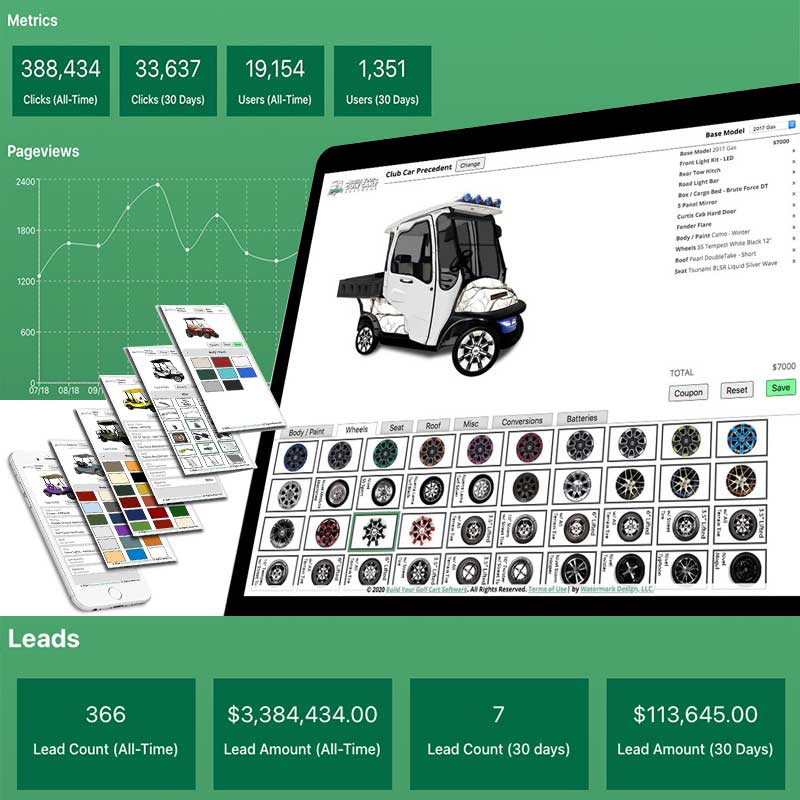 Three Reasons Build Your Golf Cart Software Will Increase Your Sales
What are you doing right now to set your golf cart dealership apart from the many others out there today?
How you are actually reaching your customers?
If you can't answer either of those questions, you may not be taking the steps necessary to build the customer relationships necessary to increase your metrics, but there's one simple thing you can do today to change all of that – try a 14 day trial of Build Your Golf Cart software.
What Is It?
Build Your Golf Cart is a way to allow users, online or in the dealership, to custom build their own golf cart in real time. They select the right accessories. From the perfect body style and paint color to the ideal wheels, comfortable seats, and even batteries, customers can completely control the way they want their cart to look in the software.
It's a chance to connect with your customers and truly show them what's possible, and it spells additional leads and added revenue for your dealership. What real benefits does it offer, though? Take a look at the top three.
Drives Personalization: Most customers today are looking for a more personal experience when it comes to big purchases. According to one study from the marketing group Epsilon, nearly 80% of consumers are more likely to make a purchase if the brand offers them a personalized experience. Build Your Golf Cart Software creates that personalized experience for every customer who visits you virtually or even within your dealership, and these days, that may be what pushes them to stick with you over visiting another dealership.
Creates a Visual Connection: Studies have shown that people tend to have trouble making purchases when they're an abstract concept. Build Your Golf Cart software, though, takes away the abstract idea of a customized golf cart and puts it into the realm of reality. Customers can literally see what they'll be able to buy from you on the screen, and that may be exactly the push they need to buy from you and add on small customizations, which can improve your overall sales numbers.
Builds Brand Trust: The latest figures suggest that 70% of consumers believe brand trust is the single most important factor in a sale. How is software going to help improve your customers' level of trust in your brand? It's simple. You're helping them create an authentic product that they can see every aspect of before they actually place the order. This means they understand every piece of what they're buying, how it's changed their overall price structure, and what it's going to look like when it arrives, and that builds trust like nothing else can.
Are you ready to increase your sales numbers?
Build Your Golf Cart software is the single best way to sell more. Sign up for your 14 day trial now.
Build Your Golf Cart Software
Software for Dealers
Allow your clients & prospects to have a better buying experience through control in the build, saving you time and generating quality leads.
Golf Cart ManufacturersWondering if your brand is available on Build Your Golf Cart software? Take a look through our list of golf cart brands. Not seeing your company? Don't miss the list of alternative golf cart companies at the bottom of the page. We're always...