Explore Our Build Your Golf Cart Software Demo for Free
Our software is designed to allow your customers to build and customize their golf cart in your store or on your website.
You don't have to worry about downloading complicated software and figure out how to code it. With Build Your Golf Cart Software, you can easily embed the software link into your business's website. You can even open up the webpage in your store so you can work directly with your customers to design their golf cart.
Our demo gives you the ability to explore our custom golf cart builder software before making a commitment. Not every feature is unlocked in the demo. Sign-up for a 14-day free trial to explore every aspect of the platform.
Close more sales as you help your customers build a golf cart. Check out our free demo of our innovative software.
Try It Out Below
This is a Build Your Golf Cart Software preview. Not all parts activated.
Sign up for a 14-Day Free Trial to use fully.
Build Your Golf Cart (new or used) – DIY
2, 4, and 6 Passenger Golf Cart Options for Onward, Precedent, RXV, TXT, ICON, Drive 1 & 2
Customization Options for Multiple Body Styles
Your customers can use our software to customize a golf cart from a variety of body styles, including Club Car, E-Z-GO, Yamaha, and Icon.
Once they've selected what type of golf cart they want, they can start customizing every aspect of the vehicle.
Endless Color and Design Settings
Within each vehicle module, there are relevant settings that control the year and price for each gas or electric model. Each module also has seven different design tabs, including body/paint color, seat color, rims and lifts, and roof and other miscellaneous features.
As a dealer, you have the ability to switch out wheels, paint colors, or whatever you'd like in our Build Your Own Golf Cart kit. We give you an easy tool to add to your website. Enhance your business as you give your customers a more personalized experience.
Close More Sales With Our Software
Once your customer has fully designed their golf cart, they can email themselves and you a copy of their creation. They'll get a clear view of what their golf cart will look like before it's produced.
Customized Solutions for Your Dealership
If you're looking for additional features to offer your customers, no problem. We can customize the golf cart builder to suit your needs.
You also don't have to worry about updating the software. Whether you embed the link into your website or you have it running in your shop, we'll update the software for you.
Run the Program on Any Device
Build Your Golf Cart Software can run on any device, such as smartphones, tablets, laptops, and desktops. We recommend using the program on a device larger than a smartphone so your customers can get a clear picture of the golf cart they're designing.
Explore Our Free Demo Today
If your customers need help building a golf cart, look no further than Build Your Golf Cart Software. You'll be surprised how your business grows when you incorporate this product into your organization. Save time as you engage with more customers and close more leads.
Explore our free demo and sign-up for a free 14-day trial of our unlocked software.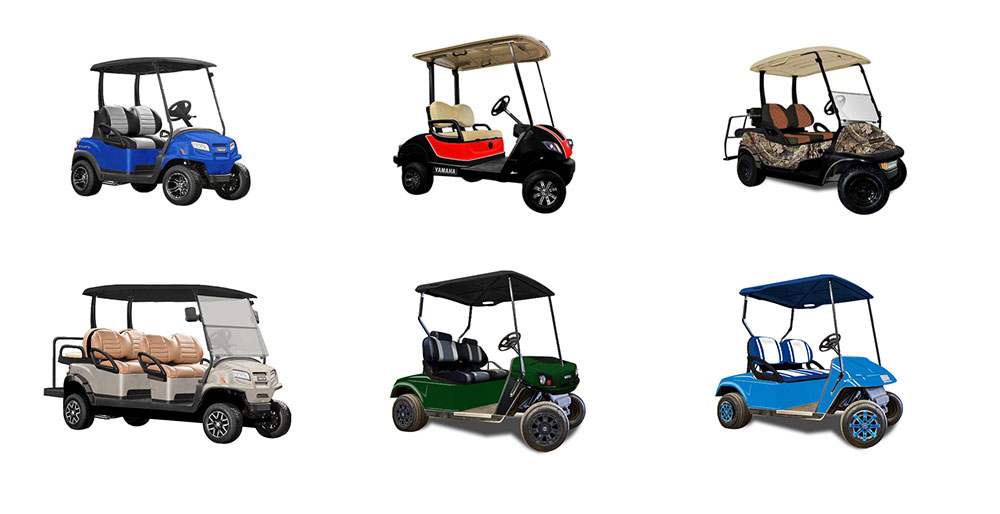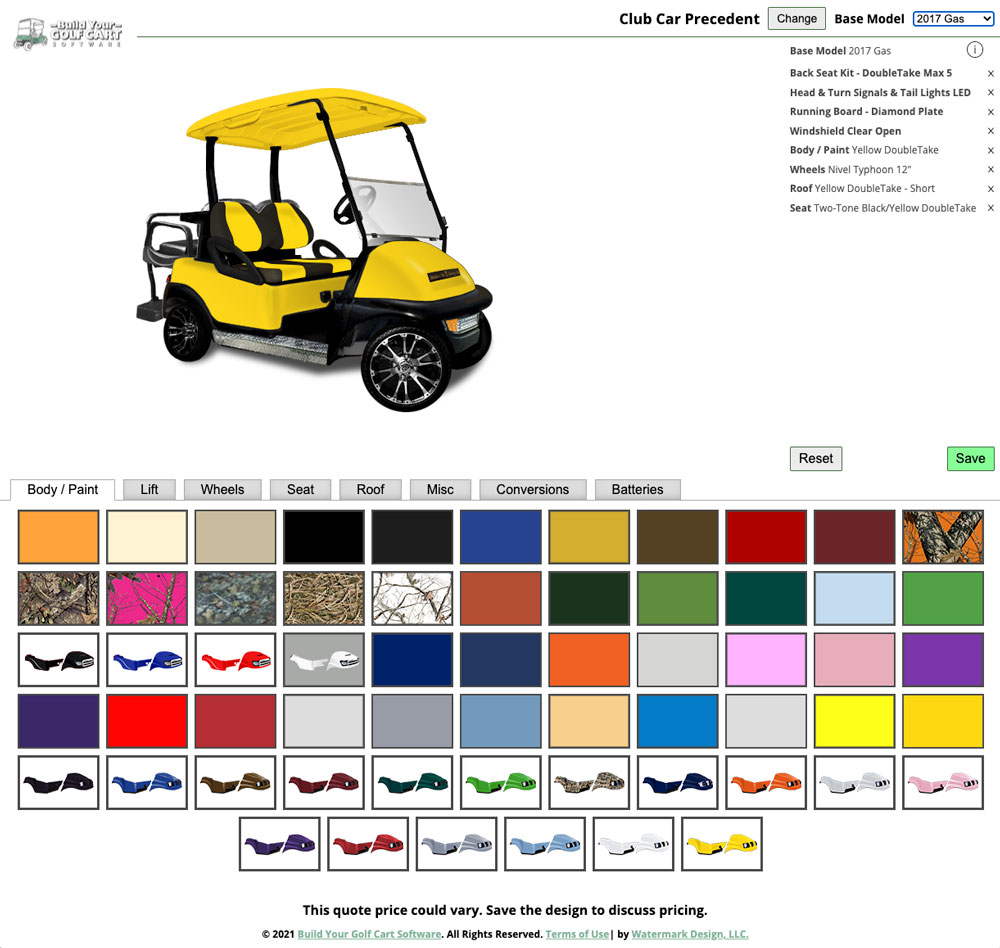 New and Used Golf Carts Built with the Build Your Golf Cart Software
What could you do with more golf cart sales?
Gallery of the Build Your Golf Cart Software in Use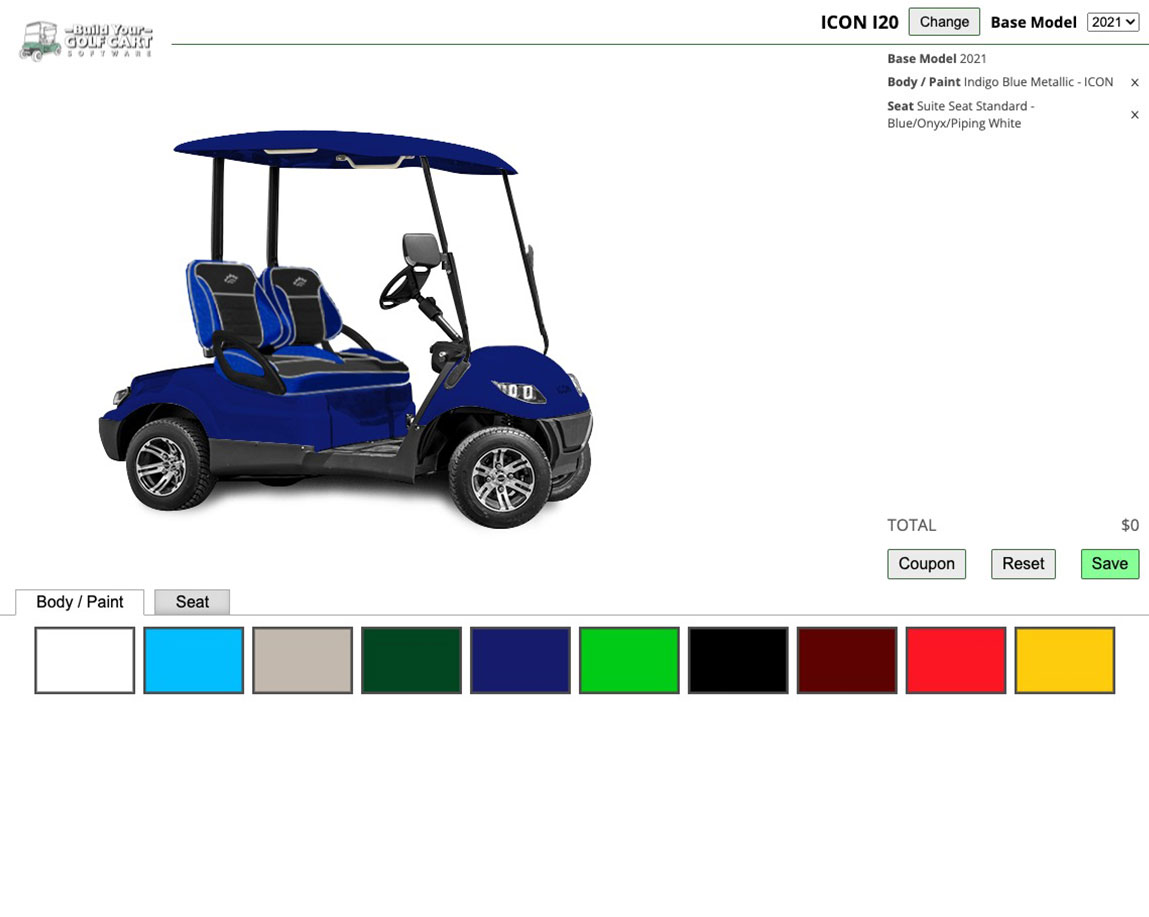 Custom Golf Cart Builds - Just Got Easier!
Below are a few videos showing how simple the Build Your Golf Cart Software works for golf cart dealers and creating leads for them.
Custom Golf Carts
1,500+ Items to Choose From
We are always adding new parts from Club Car, EZGO, ICON, Yamaha, Suite Seats, Red Hawk, Nivel, Madjax, DoubleTake, GTW, RHOX, Tsunami, Genesis, Trojan Batteries, Body Kits, Lift Kits, Light Kits and many more for Golf Cart Dealers. 
Endless custom options. No limits on what we can't do together!