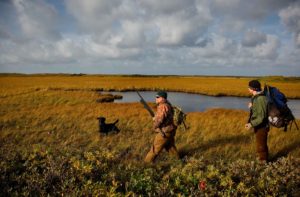 The use of golf carts for hunting has become wildly popular. Custom Club Car builds for hunting carts often include a higher torque engine to let you climb hills without losing speed. Couple this with a lift kit and all-terrain style tires and you have a hunting cart that looks and acts the part. These customizable options also mean the ability to carry more people and gear for hunting parties.
We all know stock options on a cart aren't always best suited for this kind of work. You need to customize a hunting cart for your customer's exact needs. Build Your Golf Cart allows you to sit with your customer and customize together on our app. This helps you build the conversation with them and helps them feel more in control and more sure about what the end product will be like.
Which Customers Benefit Most from Customized Hunting Carts
These hunting carts save you the long trek back and forth and make wider ranges accessible to you, but this isn't all. They also expand who can hunt. Customers might want to take their children hunting, but fear how tired they'll become with all the walking.
On the other end of the spectrum, many hunters experience limitations as they get older. Bad hips, knees, and backs severely limit what an older hunter can take on. They lose the ability to continue pursuing their passion. Yet with a custom Club Car built for the hunt, you can design a cart side-by-side with these customers, one that can help them get to their favorite spots with all their gear.
A good custom camo build for a golf cart gives you access to any road in decent shape, as well as the paths that larger vehicles can't access.
Customizing a Club Car for Hunting
Obviously, the first things to select are the core of the cart – engine, controller, lift kit, and tires. We'll delve into these, but oftentimes it's the little things that make the difference between a hunting cart feel like a powerful, personalized tool.
Good custom pieces include a front rack, a gun holder, gas engines, improved headlights, and flip-down rear seats.
A front rack allows you to carry more supplies, as well as protecting the front of the cart as you power through bramble.
Gun holders are often overlooked – people like to ride with firearms in their laps or just shove them willy-nilly. This can be a bad idea, especially if you've got first-timers along. Gun holders are great for keeping your firearms safe and secure.
Gas engines can give you more power, and they still get great mileage. The trade-off is they'll be a little noisier. Battery options are surprisingly quiet, even when you're going at speed. There are very powerful battery options available. The customer will often be happier with their quietness on a hunt, even if they think they need gas. Being able to look at these options side by side is a crucial step toward personalizing a good hunting cart.
Headlights help you in low-light and bad-weather situations – don't overlook these or you'll have an unhappy customer coming back to you.
Flip-down rear seats let customers customize how they'll use their cart for larger or smaller parties, or outings that require more gear.
One benefit of doing this from the only subscription service for dealers to customize golf carts is that subscription means constant updates and maintenance. You can buy an app that's never updated, but that won't help you when you have the call the customer and rework a deal – that'll make them get cold feet. Subscription means customization-as-a-service: parts and availability are constantly updated and we get the latest golf cart parts up every week. That makes your job easier, both in knowing what you can offer and not having to go back and make the same deal twice.